Trophy for IHF Woman's Handball World Championship 2023-2033. Kosta Boda and renowned international designer and artist Lena Bergström have been awarded the honor by the International Handball Federation to design and produce the new trophy for the IHF 2023 Women's Handball World Championship co-hosted by Denmark, Norway and Sweden (November 29th – December 17th, 2023). The new trophy was donated to the International…
Continue reading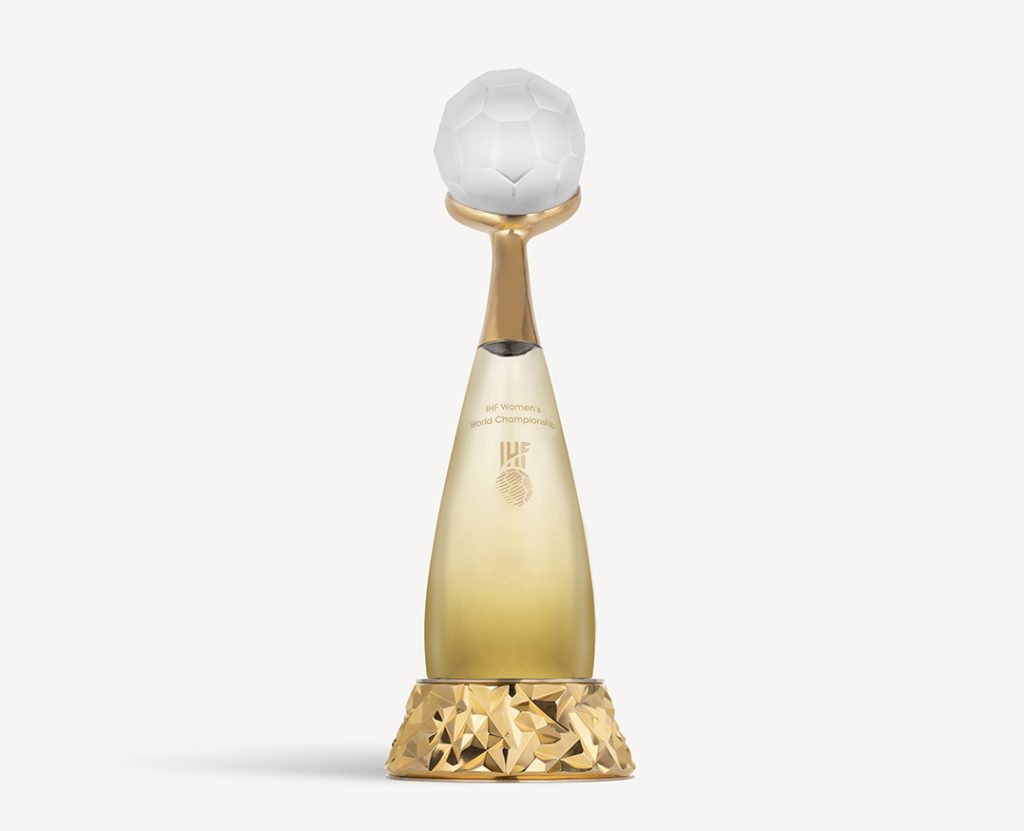 Kosta Boda and renowned international designer and artist Lena Bergström have been awarded the honor by the International Handball Federation to design and produce the new trophy for the IHF 2023 Women's Handball World Championship co-hosted by Denmark, Norway and Sweden (November 29th – December 17th, 2023).
The new trophy was donated to the International Handball Federation by the Danish, Norwegian and Swedish Handball Federations on the occasion of the 26th IHF Women's World Championships 2023, with the objective that this handcrafted showpiece by Lena Bergström – produced at Kosta Glassworks in Sweden – will become the permanent trophy for future world championships.
Conceptualized by highly decorated Swedish designer Lena Bergström, the impressive trophy beautifully captures the natural movement of the player and ball in motion. A true sports enthusiast and former athlete, Bergström immersed herself in the women's game with a single-minded pursuit to freeze that distinctive moment that reflects both the athleticism and beauty of the sport. Additionally, Bergström and Kosta Boda took on the challenge to deliver a true statement, ensuring that this trophy is unique, powerful, and evocative enough to be accepted by the global handball community as the permanent trophy going forward. To boost appeal and interest, Bergström cleverly made the base of the trophy interchangeable allowing this part to be customized for upcoming tournaments.
"It is an incredible honor for me and Kosta Boda to be asked to design a sports trophy of this magnitude," says Lena Bergström. "We immediately directed all of our energy and expertise on delivering a trophy that is truly representative for women's handball globally, that is iconic enough to match the occasion and that will stand the test of time to become synonymous with the biggest stage in the women's game."
Lena Bergström's striking trophy design consists of four individual parts – all made of glass and each crafted separately using multiple professional techniques and applications – that form a united bond reflecting Bergström's abstract and minimalistic interpretation of a handball player in motion:
− The impressive oval base of the trophy is meticulously hand-cut from a solid block of glass to perfectly reflect Bergström's trademark Carat pattern. The base is then hand painted in 21K gold for an exceptional finish.
− The arm attached to the base is mouthblown in a mold adding both dynamic movement and strength – confidently presented in olive-gold.
− The seamlessly integrated hand is individually cast in glass. The emerging solid piece is diligently hand-cut and polished to deliver a perfect shape that is hand painted in 21K gold.
− Resting in the hand is the elegant mouthblown ball which is hand-cut to accent its characteristic hexagon panels.
− Logo and text applications are sandblasted and enhanced in gold color to maintain the impeccable quality and integrity of this beautifully handcrafted trophy.